Fun Pool Games for Little Ones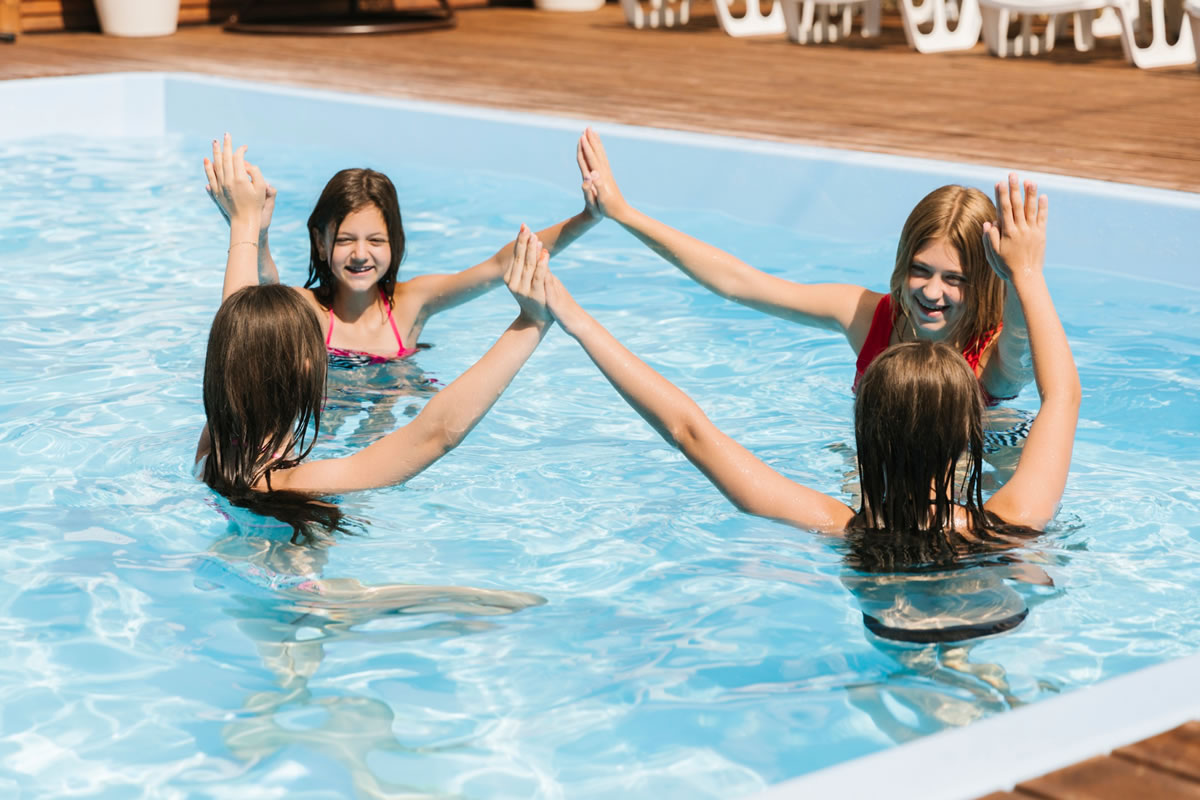 The perfect pool party doesn't happen automatically. As any adept parent or child knows, a great pool party is shaped by the food, pool toys, and games everybody plays together. Legendary pool parties always have stories of playing a thrilling game of Shark or a water war of epic proportions. So whether planning a birthday party or an excuse to swim with friends, here are some fantastic pool party games.
Marco Polo
This is the most well-known pool game on the planet. You can play it with as few as two people and one blindfold. One person stands in the center of the pool (or shallow end) sporting a blindfold while others are scattered in the water. It isn't uncommon for children to have a pair of blacked-out goggles, especially for the game, to help keep anyone from cheating. The blindfolded individual in the center calls "Marco," and others must reply "Polo." Marco locates the Polos by sound, while the Polos try to run away quietly.
What Time Is It?
For the younger kids, "What Time is It, Mister Fox?" is a counting game to play in the shallow end. Mr. Fox stays at one end of the pool while the children line up at the other. Kids ask Mr. Fox what time it is, and Mr. Fox says a time like 4 o'clock or 8 o'clock. The children take an equal number of steps ahead. At some point, Mr. Fox replies, "Lunchtime!". All the children scream and run while Mr. Fox tries to tag them. Whoever is tagged is the new Mr. Fox.
Treasure Hunt
Treasure hunts are also a pool tradition called by numerous different names and played with various props. The fundamental idea is that the host tosses a handful or bucket of objects into the pool, and everybody dives for them. You can play this with pool toys, diving rods, pocket change, garden stones, or fruit. And you can also play with floating objects and nets to practice cleaning the pool for smart parenting or on days when it's not safe to swim.
Whirlpool
Whirlpool is a fun game because it's a nifty physics trick. The key is to have 3 - 8 individuals walk or swim in a circle as quickly as possible, forming an artificial whirlpool in the center of your shallow end. Then, get the vortex swirling fast enough, and you can float and spin inside it for a few moments each.
Jump Quiz
This is another excellent one-off pool game any group can play, and you only need two or more to play it. The trick is to answer trivia questions in mid-air. To play jump quiz, have one individual be the quiz-master, either with cards or by making up questions on the spot. You can have teams take turns asking questions. Then, taking turns, each player stands at the pool's edge. They are asked a trivia question and immediately have to jump off the edge. Anyone who answers their question before hitting the water accumulates a point.
Swimming Through Hoops
If you have hula hoops, this is another great pool game. Swimming through hoops is an excellent way to rehearse swimming skills and compare agility. Using string and weighted toys, you can make the hoops stand up at different levels underwater. Then create your obstacle course and go!
Try some of these fun pool games for kids at your next party. And, call us first if you need pool service in Orlando. We are here to care for your pool, so you don't have to. Happy Swimming!